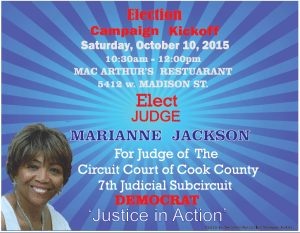 Thank You for Your Participation Saturday October 10th, 2015 at
MAC ARTHUR'S RESTAURANT
10:30 AM – 12:00 PM
For Judge Marianne Jackson's Campaign Kickoff
We Appreciate the Many Endorsements Received!
Congressman Danny K. Davis, 7th Cong. District
Robert J. Lovero, Mayor of Berwyn
Commissioner Richard Boykin, 1st. Districts
Commissioner Robert Steele, 2nd District
Recorder of Deeds, Karen Yarbrough
State Senator Don Harmon, 39th District
State Senator Kimberly Lightford, 4th. District
State Rep Lashawn Ford – 8th District
State Rep Art Turner Jr., 9th District
State Rep Camille Lilly, 78th District
State Rep Pamela Reeves Harris, 10th District
Alderman Michael Scott Jr., 24th Ward
Alderman Daniel Solis, 25th Ward
Alderman Roberto Maldonado, 26th Ward
Alderman Walter Burnett, 27th Ward
Alderman Jason Ervin, 28th Ward
Alderman Chris Taliaferro, 29th Ward
Alderman Emma Mitts, 37th Ward
Deborah Graham, 29th Ward Committeeman
Thomas F. Cargie, Committeeman, River Forest
Please vote for me, Judge Marianne Jackson, for Judge of the Circuit Court of Cook County in the 7th Judicial Subcircuit on Tuesday,  March 15th 2016 in the democratic primary election.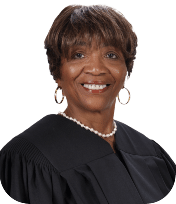 I have been an associate judge since 1997 and I am now seeking your support to become the next Circuit Court Judge from the 7th subcircuit.
I have spent my life on the West Side of Chicago fighting for justice and giving a voice to the underprivileged and disadvantaged.

•Associate Judge since 1997
•1979-1997: Private practice specializing in complex criminal trials in state and federal court
•1974-1979: Assistant United State's Attorney for the Northern District of Illinois
 •1973-1974: Assistant State's Attorney for Cook County Illinois